PRINCIPAL TOURS
Choosing a school for your child is an exciting decision.
To answer any questions you may have, and to see the school in action, we invite you and your child to join a Principal's Tour.

Take a virtual tour of our Year 7-12 campus with Cornerstone College Principal, Tom Breenen by clicking on the image below.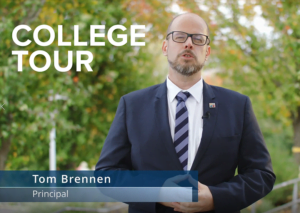 Alternatively, you may like to register for an in-person small group tour with the Principal, Tom Brennen.
Please allow up to 60 minutes for the tour. Children and siblings are strongly encouraged to come along.
Can't make the scheduled tours? Or have questions that need to be answered one to one. Please contact Rochelle Rogers, Registrar on (08) 8398 6009 or rrogers@cornerstone.sa.edu.au to organise a personal tour of the College at a time that is convenient to you and your family.

We invite you to join our Principal for a tour of our school.
You will see the school in action, visit classes and see our students upholding our values and learning in our safe and caring environment.
Next Principal's Tours
Term 4 2023
Tuesday, 24 October
Thursday, 9 November
To book a Principal's tour please call the school or complete the form.
St Mark's Lutheran School

We invite you to visit and discover the St Mark's difference – we know you'll love what we have to offer!
Next Open Day (Personal Tours)
Term 4 2023
Our Principal will show you and your family through the school, explain our learning approach and answer your questions. These tours are flexible with timing and can be arranged outside of school hours to fit with your family's schedule.
To arrange a tour please call the school or complete the booking form.
St Michael's Lutheran Primary School

We understand the importance of making the right decision for your child's primary education.  We believe every child is wonderfully unique and we want you to feel comfortable and confident that you are making the right choice for them, and also your family.
To help you, we encourage you to come and meet with us, experience the school in action, and contact us as many times as required to answer all of your questions.
Principal's tours can be booked by calling the school or by filling out the booking form on this page.
Next Principal's Tour
Term 4 2023
Wednesday, 1 November
Tuesday, 21 November